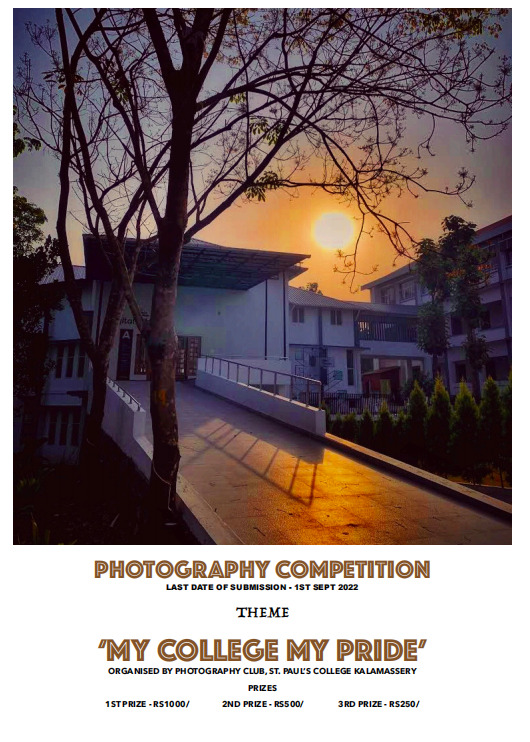 'My College My Pride'
BASIC SUBMISSIONS GUIDELINES FOR PHOTOGRAPHS
The participant must be a student/staff of St. Paul's College Kalamassery
The contests are open only for online submissions
The photograph should depict the theme "My College My Pride".
Only one entry is allowed per photographer.
You are required to provide a unique title for the image submitted
The photograph must be original and no watermark of any kind should be on the photograph.
The photograph must be of highest resolution possible and It can be in Landscape/Portrait mode. But the maximum file size of the photo is 10 MB
Photographs that have been digitally altered beyond standard optimization (removal of dust, cropping, reasonable adjustments to exposure, colour and contrast, etc.) will be disqualified. Basic editing, including colour enhancement, the use of filters, and cropping of the Photo(s) is acceptable, provided any such editing does not affect the authenticity and/or genuineness of the Photo(s). Advanced editing used to create illusions, deceptions and/or manipulations, and the adding and removing of significant elements within the frame is prohibited.
Adult content of any kind will not be entertained and would lead to direct disqualification.
All submitted photos must contain the original EXIF metadata information. However there must be no border(s), logo(s), copyright marks, identifying marks, or any other visible references and/or marks on the image.
Photos that portray or otherwise include inappropriate and/or offensive content, including provocative nudity, violence, human rights and/or environmental violation, and/or any other contents deemed to be contrary to the law, religious, cultural & moral traditions and practices are strictly prohibited and will be immediately discarded.
THE JUDGING
'My College My Pride' will appoint a judge / judges for the competition. This will comprise of members of the editorial team and / or external judges.
The judging panel shall assess and determine the winning Photos.
The decision of 'My College My Pride's judging panel will be final and binding on all Participants in respect to all matters relating to the Contest.
'My College My Pride' reserves the right to call for original JPEG or RAW files with unchanged EXIF for the purpose of authentication. An image maybe disregarded if this information cannot be provided.
Images will be judged on originality, concept, technical excellence, composition, overall impact and artistic merit.
'Likes' for the photograph uploaded on official Instagram page will carry 20% points.It can be shared on the participant's wall/timeline but the 'likes' should be for the photograph and not the link that is shared.
The rest 80% would be judged on creativity and other technical aspects.
In case of any issues the Judges' decision is final.
INTELLECTUAL PROPERTY RIGHTS
Submitted photos must be original, created and/or taken by the contestant. It must not contain any materials owned or controlled by a third party for which you have not obtained a license, must not infringe the copyright, trademark, moral rights, rights of privacy/publicity or intellectual property rights of any person or entity.
DETAILS OF SUBMISSION AND PRIZE
The photograph must be uploaded to google form https://forms.gle/qwjDdCUSa3R8gNw9A on or before 1st Sept, 2022 11:59 PM with the details in the google form
Any photograph received after 1st Sept, 2022, 11:59 PM will not be considered for the competition.
Ten Photographs will be shortlisted and the same will be displayed on official Instagram page st.paul_s_official on 3rd Sept 2022. And the prizes will be announced on 8th September, 2022
PRIZES
First Prize – Rs 1000/
Second Prize – Rs 500/
Third Prize – Rs 250/
In case of any controversy on a matter not mentioned in the above regulations, the Organizers will decide on the appropriate action. The Organizers' word shall be final and binding
Coordinator
Justine George
Asst. Professor of Economics
St. Pauls College, Kalamassery
Mob: 9895502444
Email id: [email protected]
Share This Story, Choose Your Platform!
Share This Story,