Department of English
Model II Teaching

FR. ANTONY ANAND MANNALIL
1998-2001 Batch University Third Rank
Fr. Xavier Padiaramparambil
(1998-2001batch University Second Rank)
Vice Principal and HoD,Dept. of English( Model 1)
Fr. Rex Joseph Arakkaparambil
A Catholic Priest of Archdiocese of Verapoly from 4th April 2013
Completed Diploma in Audio Recording Art at Chetana Sound Studios,Thrissur.
Associate Director at Little Flower Engineering Institute, South Kalamassery.
Also known as:
Kayaking Priest of Asia
Manager to Kerala team,white water Kayaking
Certified Open Water Scuba Diver,PADI International.
Soundachan
Classic Guitarist
Sanchari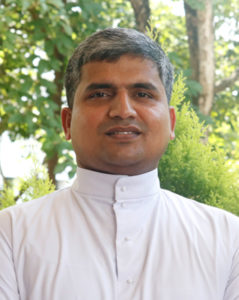 Fr.Joseph Antony Palliparambil
Associate Manager,
HoD, Department of Business Administration
St. Paul's College, Kalamassery
(2003-2006)
Author: St.Paul's College Anthem
BAVYA NANDAKUMAR
(JOURNALIST)
AUTHOR
The Storyman: Sometimes Truth Is Stranger Than Fiction
2004-2007
Fr.Jose Dominic
(2004-2007 University First Rank)
REV.FR.SEBASTIAN SONY KALATHIL
ASST.DIRECTOR,LOURDES HOSPITAL.
FR.JOSEPH VIBIN CHOOTHAMPARAMBIL
( RANK HOLDER)
Assistant Director-Lourdes Hospital
Author: "NJAN"
Unni Mathews
Year of Study: 2005-08
Unni Mathews is an Indian film Actor, who has worked predominantly in Malayalam movie industry. Unni's previous film to hit the theatres was Thera Para directed by Nikhil Prasad in the year 2020.
Avinash M Vijayan 
Cricket Player
Year of Study – 2012-15
Player with
Safety Plus Dashers, Kuwait
Globstar telecom cricket club Aluva
Gabriel Ben Kurien 
Year of study:  2015-2018 
Cricket Player
Throwdown specialist with
Royal Challengers Bangalore
Throwdown specialist · 15 December 2019 to present
Leftarm flicker
Kerala Cricket Association 
Throwdown specialist · 14 March 2009 to present
Left arm throwdown specialist
Siechem Madurai Panthers
Throwdown specialist
left arm chinaman
Also served as the  team cordinator and liaison officer of
Rajasthan  Team in the Senior Mens Twenty 20(Sayeed Mushtaque Ali Trophy) 2015-16 (Board of Control for Cricket in India Organised).
Rajasthan Team in the Senior Womens Inter State One-Dayers 2015-16 (Board of Control for Cricket in India Organised).
Karnataka Team in the U19 One Dayers(VINOO MANKAD TROPHY) 2015-16 (Board of Control for Cricket in India Organised).
Was a Part of Cordination of VARIOUS TOURNAMENTS IN ERNAKULAM DISTRICT CRICKET ASSOCIATION UNDER KERALA CRICKET ASSOCIATION.
KERALA TEAM  IN THE CELEBRITY CRICKET LEAGUE 2016 .
HYDRABAD TEAM IN THE CELEBRITY CRICKET LEAGUE 2016.